09.23.11
Double Chocolate Ice Cream with Salted Toasted Pecans
With autumn at our door, I'm trying to savor one last moment of summer with this double chocolate ice cream with salted toasted pecans.   In this dish, I used my favorite Askinosie chocolate – made in the USA in Springfield, Missouri.  The pecans are from my hometown in Georgia.  I seasoned them with fleur-de-sel sea salt that I picked up on my last Culinary Getaway to Provence.  The combination of ingredients in this ice cream yields a dessert that is deep, rich and luscious – sweet and savory.
Ingredients
1 cup heavy cream
1/4 cup cocoa powder
3 ounces (by weight) bittersweet or semi-sweet chocolate, finely chopped
1/2 cup sugar
1 cup whole milk
1/2 teaspoon pure vanilla extract
3/4 cup pecans
1/4 teaspoon fleur-de-sel sea salt plus extra for garnish
You will also need:
Medium saucepan
Large spoon
Immersible blender
Baking dish
Ice cream machine
Instructions
Heat the cream in a medium saucepan over medium high heat until bubbles form at the sides.  Turn off the heat.  Add the cocoa powder and the chopped chocolate.  Let stand for a couple of minutes to melt the chocolate.
Add the sugar.  Stir well.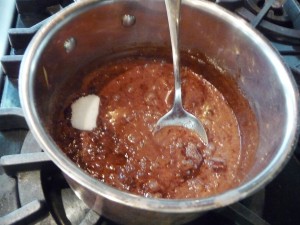 Use an immersible blender to fully incorporate the chocolate and sugar into the cream.
Add the milk and the vanilla.  Stir well.
Place the mixture into the refrigerator to completely cool.
Meanwhile, preheat the oven to 300 degrees Fahrenheit.   Add the pecans to a baking dish and roast in the oven for about 15-20 minutes, stirring every 5 minutes, until they start to get a toasty aroma.  Be very careful, as they burn easily.  Remove from the oven and cool completely.
Chop the pecans coarsely and add 1/4 teaspoon fleur-de-sel sea salt to the chopped pecans.  Mix well.  Divide into two portions – 1/2 cup and 1/4 cup.
Remove the cream mixture from the refrigerator and add 1/2 cup of chopped toasted salted pecans.   Reserve 1/4 cup chopped pecans for later.
Make the ice cream according to the manufacturer's instructions for your ice cream machine.  Let ripen in the freezer for a few hours before serving.
To serve, place the ice cream into festive dishes.  Top with a scattering of the reserved chopped pecans.  Sprinkle lightly with fleur-de-sel, if desired.
Serves 4.