I am inspired to make chicken piccata when I have Meyer lemons, chives, parsley and dill in the garden.  I especially like the addition of the fresh dill.   I serve this dish with simple sides of rice and roasted vegetables. 
Ingredients
2 large chicken breast halves
Sea salt
Pepper
All-purpose flour
Olive oil
1 cup fresh leeks, cleaned and sliced crosswise
1 cup chicken stock
1/2 cup white wine (I like to use Sancerre/Sauvignon Blanc)
1 Tablespoon fresh dill, chopped + more for garnish
1 Tablespoon fresh parsley, chopped + more for garnish
1 Tablespoon fresh chives, chopped + more for garnish
Juice of 1 Meyer lemon
1 Tablespoon capers, rinsed
4 Tablespoons butter
You will also need:
Blunt-edged tool to pound the meat
Large skillet with lid
Tongs
Instructions
Butterfly the chicken breast halves, cutting them all the way through so that the pieces are 1/2 their original thickness.  Pound them so that they are even thinner, about 1/4″ thick.  Generously salt and pepper them on both sides and dredge in flour to coat. 
Add enough olive oil to a large skillet to generously coat the bottom of the pan.  Heat it over medium-high heat until the oil is hot.  Add the chicken slowly.  Keeping the heat at medium-high, cook each piece until it is browned on one side, about three minutes.  Turn over to the other side and brown, about two minutes more.  Remove from the pan and keep warm.
Add the leeks to the pan and saute for about 5 minutes until they are tender, adding a little more oil, if needed. 
Add the chicken stock, wine, herbs, lemon juice, capers and butter.  Bring to a boil and cook for 1 minute.  Reduce heat to medium-low and add the chicken back to the pan.  Cover and cook for about 5-8 minutes more, until the chicken is cooked throughout. 
Garnish with additional herbs.  Serve immediately, along with the pan juices.  Serves 4.
These pancakes are light, fluffy, moist and full of lemony flavor, along with plump blueberries.  I buy baskets of ripe blueberries at the farmers markets in the summertime and freeze them for later use.  If using frozen blueberries, there is no need to defrost them before using in this recipe.   I cook these pancakes in a cast iron skillet.  I make them one at a time using 1/2 cup of batter for each one.
Ingredients
1 cup all-purpose flour
1 teaspoon baking powder
1/2 teaspoon baking soda
1/4 teaspoon salt
2 Tablespoons sugar
1 Tablespoon Meyer lemon zest
1 large egg, slightly beaten
1 1/2 cups buttermilk
1 Tablespoon Meyer lemon juice
2 Tablespoons melted butter, plus more for the pan
1/2 cup blueberries
Topping:
1/2 cup blueberries
1/4 cup sugar
1 Tablespoon Meyer lemon juice
Zest from 1 Meyer lemon
You will also need:
Medium mixing bowl
Whisk
Cast iron skillet
Metal spatula
Ovenproof plate
Small pot
Brush for butter
Instructions
Heat the oven to about 150 degrees Fahrenheit.  You will use the oven to keep the pancakes warm while you are making them.
Mix together the flour, baking powder, baking soda, salt, sugar and lemon zest.  Add the egg and mix slightly to combine.  Add the buttermilk, the lemon juice and the melted butter.  Stir just until all ingredients are moist.
Put enough melted butter in the skillet to coat the bottom.  Heat the skillet over medium high heat.  When the butter starts to sizzle, add 1/2 cup pancake batter.  Reduce the heat to medium and cook until bubbles form on the top – about 2-3 minutes.  Flip the pancake and cook on the other side for another 2-3 minutes until the pancake is cooked throughout.  Move the pancake from the skillet onto an oven-proof plate.  Place the plate in the heated oven so that the pancake stays warm.  Add more butter to the pan and repeat the process until all of the pancake batter is used.
Meanwhile, make the topping by heating the remaining blueberries, sugar, lemon juice and lemon zest over medium-high heat until they start to boil.  Reduce the heat to medium and cook for about 5 minutes until the mixture has a syrupy texture.  Stir or shake the pan gently so that the fruit remains intact.  Turn off the heat and keep warm.
When the pancakes are done, serve them along with the blueberry topping.  Add more butter to the top, if desired.
Makes five pancakes that are about 8 inches in diameter – enough for 2-3 people.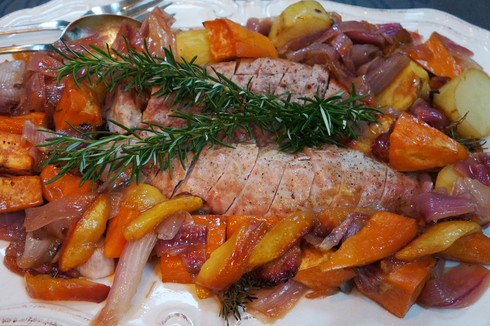 This is a meal in a baking dish. It is very easy to prepare and really delicious.  The sweet and savory combination is perfect for a rustic summertime lunch or dinner.  This dish pairs well with a fruity Zinfandel or spicy Syrah.  One of my favorite pairings is with Chiarello Family Giana Zinfandel wine. 
If you want a dish on the side, I highly recommend a summer corn salad with heirloom or sungold tomatoes.  Or simply a green salad. 
Ingredients
1 large pork tenderloin roast (about 1 pound)
Olive oil
2 sprigs of fresh rosemary, plus more for garnish
Coarse grey sea salt
Freshly cracked pepper
2 medium Yukon Gold potatoes, washed and cut into 1″ pieces
1 medium sweet potato, peeled and cut into 1″ pieces
1 large Spring or red onion, sliced into 1″ chunks
1 large firm but ripe nectarine, cut into 1″ pieces
1 large firm but ripe plum, cut into 1″ pieces
You will also need:
Cutting board
Chef's knife
Large baking dish
Instructions
Preheat the oven to 425 degrees Fahrenheit.
Rub the roast generously with olive oil and then with two sprigs of rosemary.  Sprinkle generously with coarse sea salt and pepper.
Place the cut-up potatoes, onions and fruit into the bottom of a large baking dish.  Drizzle them with olive oil and toss to coat.  Sprinkle with coarse grey sea salt and pepper.   
Push the vegetables and fruit to the sides of the dish to make room for the pork in the center.  Place the prepared pork roast in the center of the dish with the vegetables on each side.  I like to toss in the rosemary sprigs that I used on the pork, too. 
 Place into a 425 degrees Fahrenheit oven.  After about 20 minutes, open the oven and stir the vegetables.  Return the pan to the oven and cook for another 25-30 minutes, until the meat registers at least 165 degrees Fahrenheit on a meat thermometer.  Remove the pan from the oven and let the meat rest for at least 15 minutes before slicing it.
 Garnish with rosemary, if desired.   Serve the meat with the vegetables on the side.
 Serves 2-3.
Growing up in the South, we had homemade ice cream often in the summertime.  Our ice cream had a very simple base of cream,  milk and sugar.   We did not use eggs in it, and we did not cook it.  We added fruits and other ingredients to the base, depending upon what we gathered that week – ripe, juicy peaches or sweet blackberries.  Sometimes, we just added vanilla or chocolate to the base.  Then we would put the creamy mixture into our hand-cranked churn, cover it with ice and rock salt, and start churning.  Today I have an ice cream maker with a compressor in it.  It is much easier on my arms that way and it makes great ice cream.
In this recipe, I use Askinosie chocolate – their San Jose Del Tambo 70% bar.  It is simply a perfect balance in all ways.  I also like Valrhona chocolate in this recipe.
Ingredients
3/4 cup sugar
1 cup cream
1 cup 2% (lowfat) milk (I generally use whole milk but find it too rich and thick for this recipe.)
1/4 teaspoon fleur-de-sel sea salt (plus more, to taste).
1.5 ounces of your favorite dark chocolate bar
1/3 cup toasted almonds
You will also need:
Small skillet
Large spoon
Measuring cup
Medium mixing bowl
Food processor
Ice cream maker (I use one with a compressor in it, but you can use just about any kind.)
Instructions
Put the sugar into the skillet and heat over a medium-high flame until the sugar becomes liquid and turns honey-brown.  Don't stir the pot at all during this process, just shake it until the sugar melts.  Stirring could cause the sugar to crystallize.  Be VERY careful as the liquid sugar gets extremely hot.
Just before the mixture turns deep amber, remove it from the heat – it will continue to cook.  Let cool slightly and add the cream slowly.  It will sputter and seize up but don't worry – that is normal.
Place the skillet back on the burner over medium-low heat and stir until the caramel has melted and the mixture is smooth.
Remove from the heat entirely and let cool slightly.  Add the milk.  Stir until blended.  Add the salt.  Taste to see if it is salty enough.  If not, add a little more until it is to your taste.
Cover and place into the refrigerator.
Meanwhile, grind the chocolate very finely in the food processor.  Set aside.
Grind the almonds very finely in the food processor.  Set aside.
When the salted caramel mixture is completely cool, remove it from the refrigerator.  Add the ground chocolate and the ground almonds.  Stir well to combine.
Freeze according to your ice cream maker's instructions.
When frozen, remove from the ice cream maker and place into a dish with a tightly-fitting lid.  Freeze for several hours or overnight, until firm.
Garnish with chopped chocolate, chopped almonds, a sprinkling of fleur-de-sel, mint or your favorite idea.  Serves 4.